ApartmentsSuites
Ocean City Apartments & Suites
When you are looking for a little more than a room, we are the top choice for New Jersey apartments and extended stay hotels in NJ. We offer well-appointed hotel suites and apartments for short as well as long-term rental periods. These apartments are excellent for those that want to enjoy and experience Ocean City for a little longer than a week.
An apartment is a fantastic option because of the extra space, kitchen facilities, private bathroom, daily maid service, private parking spot and so much more. Make yourself at home here when you come to Ocean City, New Jersey.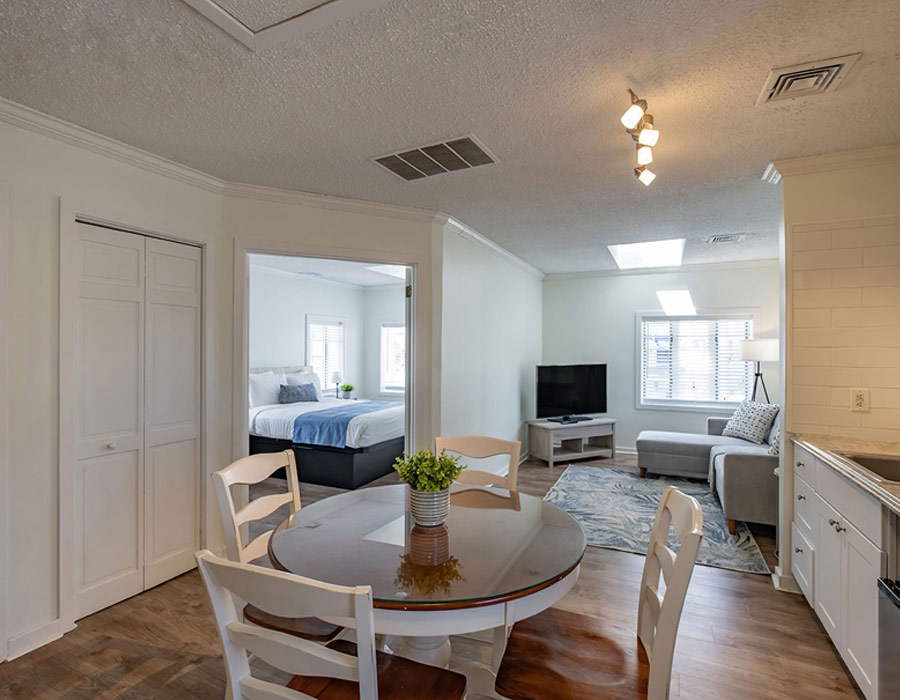 1 Bedroom Suite
Enjoy amenities such as complimentary Wi-Fi, daily housekeeping, separate living areas, a fully equipped kitchen and a washer and dryer. Ideal for a small family or couple - this apartment has it all.
Book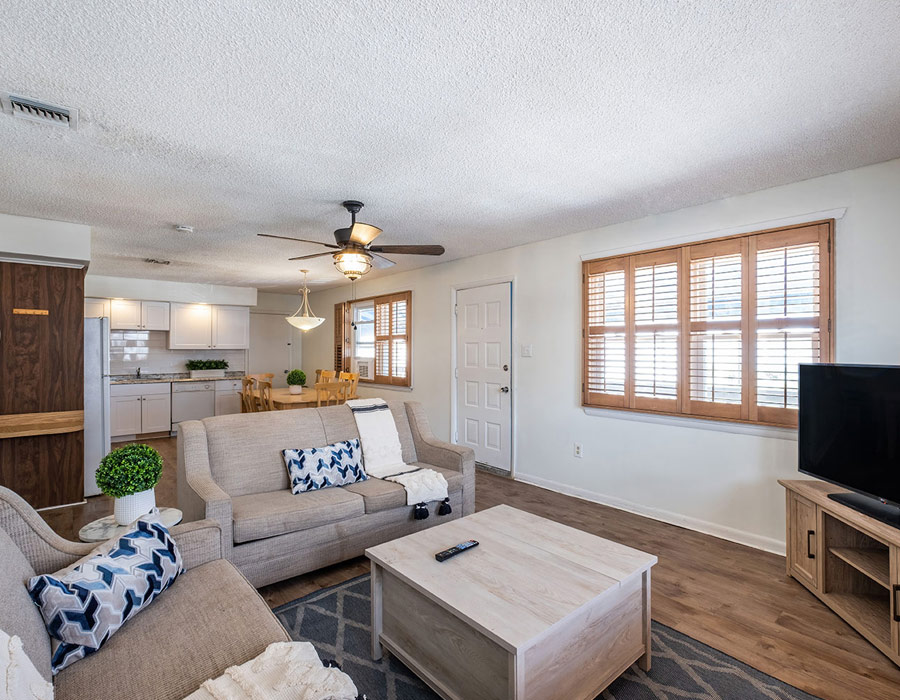 Apartment 402
This apartment is our largest, most spacious unit at The Forum Ocean City and sleeps five comfortably. It features two tastefully furnished bedrooms and one bathroom. It also has a full living room area and a fully equipped kitchen with a dining area. Extras include free Wi-Fi, a balcony and beautiful views of the ocean.
Amenities
Living Area with Bahama Shutters and Ceiling Fan
Full Kitchen with Cookware, Utensils & China
Dining Area
Master Bedroom
Oversized Bedroom with Two Double Beds
Dressers
Three TVs
Washer and Dryer
Ceiling Fan
Dimmer Switches
Serenity Area
Air Conditioning
Covered Parking
Balcony/Porch
Game Room
Complimentary Wi-Fi
Complimentary Beach Tags (4)
Apartment 400
This two-bedroom, one-bathroom apartment will make you feel right at home in no time. It sleeps 5 guests and offers convenient amenities, including air conditioning, parking for one car, complimentary Wi-Fi and air conditioning.
Amenities
Full Kitchen with Cookware, Utensils & China
Living Room Area
Master Bedroom with King-Size Bed
Oversized Second Bedroom with Vanity and Daybed
Three TVs
Ceiling Fan
Air Conditioning
Dimmer Switches
Covered Parking
Daily Maid Service
Serenity Area
Complimentary Wi-Fi
Complimentary Beach Tags (4)
Balcony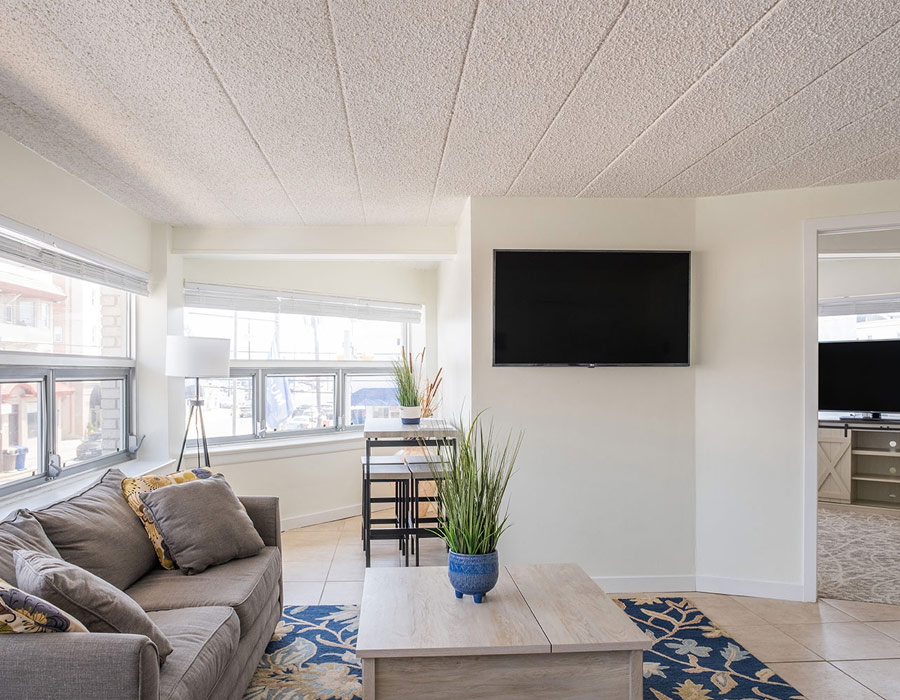 Apartment 200
Located above the lobby on our second floor, this charming apartment has its own private fenced-in balcony, accessible features and it sleeps four people comfortably. It also includes excellent amenities such as air conditioning, a fully equipped kitchen, three TVs, two bathrooms and two separate bedrooms with cozy beds. Guests can use an elevator to access the apartment.
Amenities
View of the Boardwalk
Living Area
Full Kitchen with Cookware, Utensils & China
Master Bedroom with Balcony
Second Bedroom with Double Bed and Sitting Area
Extra Daybed
Dressers
Three TVs
Ceiling Fan
Dimmer Switches
Covered Parking
Daily Maid Service
Complimentary Wi-Fi
Complimentary Beach Tags (4)